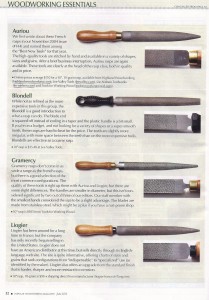 Long time members of the NWDA know that the initial lure of their LuRon fascination was the low expense of tools required to get museum quality results with junk wood found in their backyard or beaches.
With a router blade and handle, a file, lots of different grits of sandpaper and a natural, fine finish of linseed oil and beeswax boiled on you stovetop, you can create the masterpiece of a lifetime.
I've been going to classes for about 3 years now. I am an enthusiastic newcomer to the art of Luron. Like most people who create sculptures in this strict but purely natural manner, I come with some knowledge of tools and interests in all wood working areas. Everyone I have met has some area of expertise that ultimately benefits our LuRon classes. Welders, pipe fitters, cooks, electricians, homemakers, crafters, painters, soap makers, computer programers, dog trainer  . . . It's mind boggling how everyone makes the art of LuRon so special with their individual skills. And it is the sharing of our special skills that makes this art so much fun.
In the June 2013 issue of Popular Woodworking there was an extensive article about "Hand-Stitched" rasps. I know of a very successful and popular LuRon artist who lives and breathes rasps. This article was custom made for my good friend and accomplished sculptor, Chadd.
Now if you don't believe rasps are "hand stitched" watch this video Very cool, just to let you know.