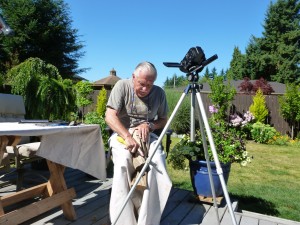 One fine summer day Chadd Hass spent the afternoon in front of the camera and gave us two new videos to enjoy. These are informative and fun to watch.
Chadd is a long time NWDA member who has won many, many awards for his work and in these 2 videos he shares his expertise.
In 4-way Files, Rasps and Microplanes Chadd share the techniques he uses to quickly and efficiently clean a wood sculpture. This video focuses on the microplane. We hope to have him share his techniques on the rasps and files in a more in-depth manner later on.
LuRon sculptures must be clean and have a natural, satin finish. Varathane is STRICTLY forbidden for a sculpture. Not so for bases. This video shows an easy and clever way to punch up the look of a sandstone base. Sandstone makes a very nice base because it is easy to shape and drill, but its color can be bland and uninspiring. Marbling Bases is really fun.
Don't forget to check out our entire library of videos. Sometimes you just need a refresher!
Enjoy.