Driftwood Sculpture Display at Woodinville City Hall
November-December 2016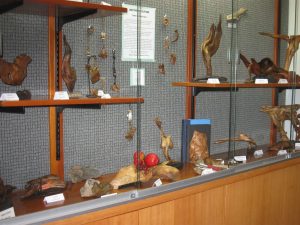 This display features work by the driftwood class sponsored by Northshore Senior Center at Brittany Park senior living community. This class has been active for just over two years with instructor Jo Marsh. It is worth noting that creative artistry has no age limitations: two of the six featured artists are in their mid-90's!
The pieces in this exhibit range from fairly large to miniature sculptures and include pendants and pins as well. This special display is on view at Woodinville City Hall through the end of December during business hours: Monday through Thursday 7:30-5:00, Friday 7:30-4:00.