The Luron method of driftwood sculpture is the principal discipline taught by the NWDA. A finished sculpture done with this method will retain all its inner beauty and patina and is a beautiful art form, not a craft item. Our goal is to teach the principles we have learned so that others are able to achieve the same.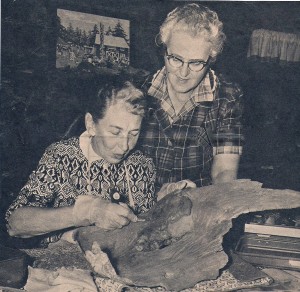 Each sculpture is unique and there will never be two that are alike, as our basic materials are first created by Mother Nature and tested over the years by rain, baking sun, flood, fire and dirt immersion.
We first clean off the sand or debris from our chosen piece, and let it dry so we can determine how solid it is and study its shape. We are looking for pieces that are good hard wood with interesting shapes, voids, and curves.
Then using a router blade in X-Acto or Excel handles, we scrape away all the punky rotten wood until we get to that beautiful hard core. This is when the wood will likely squeal to let us know that we are finally there! There are a few exceptions to this rule, and we shall discuss those softer woods later as we get into more sculpting details. Finally with fine scraping, careful sanding, brushing and delicate shaping we will expose that lovely grain that we have been trying to find. When a piece is very smooth from sanding with finer and finer grit sandpaper, we are approaching our finishing.
Finishing details are often up to the artist, but the usual procedure is to burnish the wood with an antler, or a smooth rock or bone. This procedure will crush the surface cells of the wood and create a warm and pleasing shine. Burnishing will also expose the need for more sanding if the piece hasn't been completely cleaned. When the sculpture is burnished to a high shine the artist may choose to apply a very light coating of beeswax and turpentine mix to feed the wood and then it is buffed to a shine with an old sock or soft lint free cloth.
All the completed sculpture will then need is proper basing. These bases must always be true to the sculpture, not compete with it for display. The best way to find out the size of the base is to shine a light above the piece to show its shadow. No base should be bigger than the shadow or higher than one-third the overall height of the piece and should be of a color to enhance and feature the sculpture (usually a soft black or deep tone of brown if using a wood base). Rock is also a great medium for a base but care should be used in mounting.
Basing is an extremely important part of the art and much time and thought should be used to pick that perfect base to best display your work.
All that will be needed to keep your sculpture in good shape would be an occasional dusting and perhaps waxing with a good beeswax based conditioner. Thus your sculpture, like handcrafted fine antique furniture, will last through the years.
Most important is to remember that no polyurethane based finishes are ever used with this art. Those finishes or varnishes sit on the surface and the wood underneath will age, crack and even rot. The only time to use hard shellac or varnish is on a piece kept out of doors and exposed to the Pacific Northwest's harsh elements.
Arline De Palma